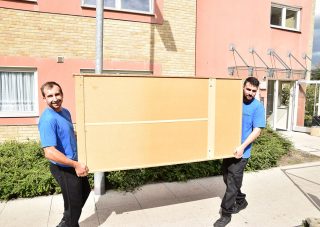 Moving can be an annoyance and a hassle, whether you are moving home with your family or relocating your company to a new office. This is why you need some assurances in moving your furniture, prized possessions, and other belongings with a service that offers physical strength for moving those big items, as well as experience, care, and consideration in handling your property.
At Barking Removals we train our staff in these areas, most importantly in being courteous and treating the customer, their home, and their belongings with respect.
We place as much importance on moving your items as we do on answering phones and organising arrival times, all of which are vital parts of our business. Simple courtesy is the key to any business and you will see the results from Barking Removals.
Since we established our business in 2007, we have worked with dozens of customers, moving countless households and businesses safely and securely. On each move we take the time to listen to our customers on what they would like done with the move, particularly any special instructions for handling fragile and breakable goods. We also offer supporting services such as disassembling and packing furniture and other fixtures. Removals in Barking will do all of this promptly, swiftly and of course, safely.