Business Relocations in Barking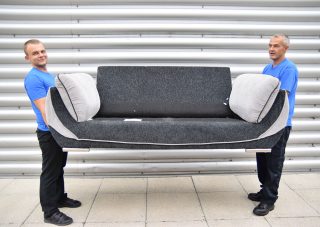 At Barking Removals, we don't just move people into their new homes. We also specialise in business relocations with a little disruption to business operations as possible. Time is money and we understand that no business, big or small, can afford to lose time at work, which is why moving to a new office or premises can seem like a daunting task. This is where can help with a moving service that will plan out your move meticulously, making sure you move along with your work with no interruption but get you swiftly into your business' new home.
Barking Removals will send out one of our project managers to your premises to assess your moving needs and will consult with you on a detailed plan for the removal ahead of when our team arrives. Each team member will be briefed on your moving needs and the plan. We get in and out as quick as possible, minimising disruption to your working day.
For years, we've specialised in helping families move home and it's a good moving reputation that we're extremely proud of but we always want to find new avenues for our business. This is why on top of our home moving services, which we continue to offer, we have moved into commercial moving in order to address many enquiries we have received from businesses in Barking. There was a gap to fill here and we were more than happy to provide our service for it.
Commercial moving is, of course, a completely new challenge when compared to domestic removals but it's a challenge we faced head-on and we have the service to back it up. Domestic moving is different due to the family and personal setting. You generally have a family, which is a smaller group of people to work with, and the schedule is created at a time that is convenient for them. With a commercial moving, we need to develop a schedule that works around the company's working times so as not to disrupt any employees or even neighbouring businesses.
Moving office settings also throws up some challenges with the items that need to be moved. Instead of sofas, beds, and wardrobes, we're dealing with offices desk, swivel chairs, computers, and filing cabinets etc. This is where our disassembly and packing service really steps up to the plate.
After completing a couple of commercial moves, Barking Removals was able to devise a set of best practice guidelines and specialised project teams for business removals and office relocation.We have been able to grow and understand the moving needs of a modern business because at the end of the day, we are a business too and we feel the pinch if we ever experience any disruptions to service. With this in mind, we have refined and perfected our office relocation services.
When you opt for Barking Removals for your move, you will be availing of some high-end standard services including: fully itemised and transparent fees structure, written records for your files, HM Revenue and Customs standards for all invoices and receipts, and asset insurance during the move.
These are all the basic standard offers that you will find from any removals company but we go the extra mile and have a number of extra services tailored for your needs and engage with you and your business.
Business Relocations Efficiency
No two business removal jobs are the same. This is vital in delivering a great service for our clients. Each project is individually assessed by a project manager, who devises a moving plan for entering your business, packing up and moving as swiftly and safely as possible. Our service has a reputation and in the past we have moved an entire office to its new location at the end of business one day and had everything moved and ready for business by the start of the next trading day. There was no disruption to staff and we were barely noticed.
Coordination and Teamwork
We also know that there will always be challenges thrown up during the move so we expect the unexpected but stick strictly to our moving plan as much as possible. Every member of the moving team is briefed on what they have to do and no one ever goes into a job blind. Teamwork is a huge part of our ethos and it's why we've been so effective in domestic and commercial moving alike. We train all our moving professionals to work safely and quickly, while also keeping an eye out for the best ways to save space on the truck, thus saving you money.
While domestic and commercial moves differ in many ways, there can be some similarities. This is why Barking Removals extend many of our home moving services to your office setting. This includes packing and wrapping services as well as dismantling and re-assembly of furniture. Dismantling is particularly convenient as it will make moving much safer and save on space in the truck and once your items are on board the truck, they are fully insured. We consider this a basic service that all clients are entitled to for peace of mind.
Providing you with a hassle-free moving is our aim, simple as that, and we're here to help. Get in touch with Barking Removals today for more information on how we can best move your business to its new home.