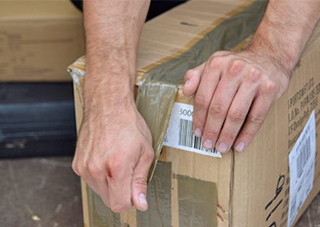 Out moving company will provide all the necessary packing materials and boxing materials to our customers for their big move. All of our materials are sourced locally and can be used for short notice deliveries so we always have you sorted. When it comes to high quality materials for packaging Barking Removals team believes that they are important for safely moving everything and this is another service we are proud to offer people relocating in Barking, which complements our dismantling and re-assembly services.
We offer different boxing materials for different items and your prized belongings, which can be all tailored to your needs. These materials include double walled removal boxes, which can be used for items big and small. We also stock plenty of packing paper, heavy duty shrink wrap, bubble wrap and tape for keeping everything tightly packed. For even larger items, we have wardrobe boxes.
We take no half measures and everything will be safe and secure from the moment it leaves the house and is packed onto the truck to the moment it is unravelled in your new home. Safe and secure is the most important thing to us when it comes to moving so using quality packaging materials is very important here. Feel free to call Barking Removals during the usual office hours for more information on packing and boxing materials, prices, and availability. Our offices are open Monday to Friday, 10am to 6pm and Saturdays from 10am to 2pm. We're happy to help.